The Palisades, Part One:

North Palisade and Polemonium Peak

July 29th - August 2nd, 2009

Success in the Palisades

Those present: Adrian Crane, Deborah Steinberg, Ray Kablanow, Ryan Swehla with assistance from Jack & John Styer on July 29.

This adventure had all the makings of a good drama: suspense, taking a wrong turn, a night out in the wilderness without tents or sleeping bags, a few tears. Although we all took it in stride as a not unexpected turn of events, it does happen to make a really good story……

We left Modesto on Tuesday evening July 28 about 15 minutes after Deborah arrived home from work so that we could be at the trailhead near Bishop in enough time to start acclimatizing to the altitude overnight. With the help of Ray's van, otherwise known as "The Beast" we had everything we needed for a comfortable ride, including running water, a refrigerator, and a microwave. Wherever we stopped to get diesel, complete strangers would flock to the Sportsmobile and ask questions. Ray would politely have an audience with his fans for a few minutes, and then feign the need to reach our destination quickly, so that he would not be permanently delayed. Ray's van makes him a popular guy on any kind of adventure, but he has known us long enough to know that we would like him even if he didn't own such a fabulous vehicle.

. Adrian and Deborah in front of the Palisade Range.

On Wednesday morning at the trailhead, after our usual sorting of gear, we were greeted by fellow Modestans Jack and John Styer, who had been backpacking and fishing at the "Numbered Lakes" area, and who had been nice enough to pick up our permits for us at the Ranger Station. Furthermore, they arrived down the trail with nearly empty packs, so they could act as Sherpas for our long pack into base camp at Sam Mack Meadow. Of course, most grateful was Deborah, since although her pack is usually about the same weight as everyone else's', relative to her size it is by far the heaviest, making her almost always the slowest on the ascent in. One of the advantages of having Jack on the trail with us was his knack for telling fascinating stories of all his past lives. We decided that Jack has never let the grass grow below his feet for long. We experienced quite a bit of rain on the hike in, and debated for a time whether to continue past Sam Mack Meadow at 11,060 ft. for a higher base camp, but decided that scenic beauty and easy access to water far outweighed any small savings in time for the next day by having a camp further up the trail. Wearing virtually no rain gear and even less fat for warmth, Jack chilled quickly, so he and John left us for their camp at the lower lakes after big hugs from all of us for their enormous help getting us to base camp.

After setting up camp we chatted with a team at the creek that had just returned with the "Beta" from the top of the U notch. Although the guide was about 20 years younger than our average age, and much of what she said was in lingo that was unintelligible even to Ryan who is 30, we were able to discern that we were supposed to stay to the right on the U-Notch to avoid the bergschrund (a deep Z-shaped crack-like cave in the glacier) and the blue ice in the center. After forcing ourselves to go to bed at 7 pm, we were awakened the next morning at 3 am by Ryan's watch alarm, all of us hoping the others had not heard it. The information we deciphered from the guide the previous day turned out to be quite helpful, making our ascent of the U-notch largely uneventful, with very little ice and mostly good kickable snow. We arrived at the top of the U-notch by 9 am feeling empowered that the rest of the climb to North Palisades Peak should be manageable, and attempting two summits in one day would allow us to avoid a return trip up the U-notch. However, after the U-notch, the real climbing began, and the next 50 vertical feet of the "Ryan variation of the Clyde variation of the Chimney Route", took us over 90 minutes to ascend. After more strenuous climbing we finally reached the summit ridge and scrambled through the bowl to the final summit blocks. The blocks are huge and exposed to views through the cracks of the Palisade Glacier 1000 ft. below, which evoked tears from Deborah, who, although she was tied in, felt like she would slam against the rocks before swinging into an abyss if she slipped. Once at the summit of North Pal at 2:30 pm (Summit #7 for Climb for a Cure) we were able to relax and eat lunch in the lovely warm still air. A glider buzzed us, and made several passes, waving as he went past. Deborah put 2 mementos in the summit box for two men who live with cancer: a Livestrong bracelet for Ed Blankenship and a portion of the Minarets map for Tom Gough. We spent an hour on top debating whether to attempt Polemoneum or Starlight Peak next, while there was still time. We knew with a second Peak attempt in one day we would be returning by headlamp, but it would be well worth avoiding a second climb of the U-notch and the nasty boulders and snowfield below. We decided to climb Polemoneum next, since we felt it was a safer bet to summit. Since we came SO CLOSE at our last attempt of it a year ago we figured we knew the mountain better, and were more likely to be successful than would we would with Starlight, which was a complete unknown entity. We downclimbed and rappelled to the top of the U-Notch by 5:30 pm. Since we wanted to be at the top of Polemoneum and back to the U-Notch no later than 7:30 pm, there was no time to spare. Ryan had been our lead climber for much of the trip, but Adrian tied in first for Polemoneum and led a short but amazingly tricky short class 5 pitch that leads to easier ground. We made surprising progress, and headed for a notch inside a gendarme to find an easy gully. At the top of the short gully Adrian took a look at another class 5 stretch, and called Ryan forward to tackle it. Ryan easily got us up that, belaying the rest of us up once he was anchored, and then it was just a short scramble over more summit blocks to make it to the summit of Polemoneum by 7 pm. We are over ½ way through the 15 fourteeners! We quickly take pictures (Summit #8 for Climb for a Cure), sign the log book, and put our mementos in the Summit box of two whose lives were taken by Cancer: Arlene Berry and Debbie Renz who were two beloved local teachers. We w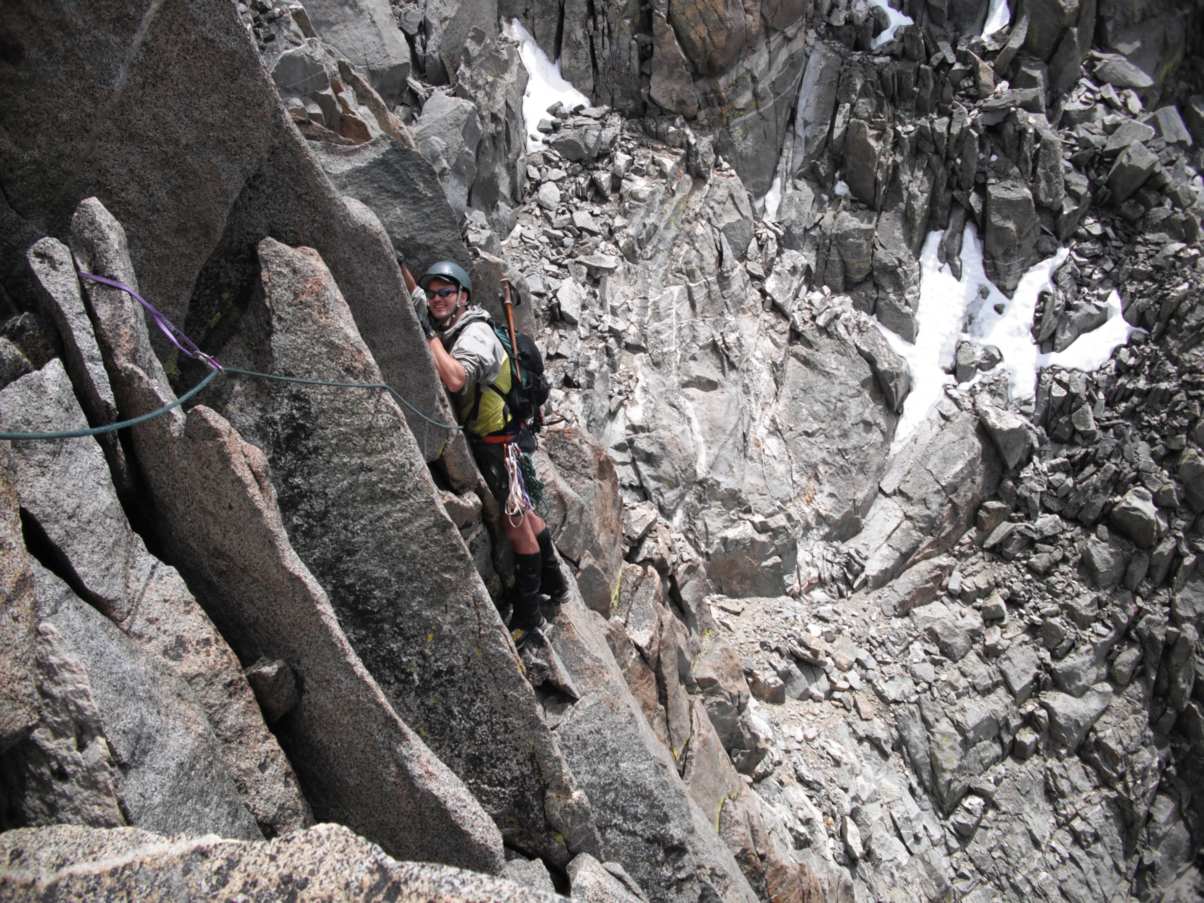 ere still lucky to have good weather upon us although the sky to the west looked threatening, and the sun was going down quickly. We needed to rappel down 3 sections, and during the 2nd the rope got stuck, which meant Adrian had to use the last of the twilight to climb up, free the rope and then rappel down again to the rest of the group before our final rappel in the dark onto the top of the U Notch. We needed to use headlamps for the rest of the climb down, and downclimbing the U-Notch seems to take forever, made more difficult for Deb since she had lost her ice axe rappelling somewhere off Polemoneum. The icy section with fast flowing meltwater was a small challenge and the bergshrund from above was a little tricky to find a route around, but since Adrian was able to doze (!) while at a belay anchor he felt rested enough to figure out how to work ourselves around it. Unfortunately while Adrian was dozing he left behind one of our radios. Ray later admitted to losing one as well, so we were down to only two.
Ryan Attempts to get around a pillar on the Starlight Ridge at 14000'
It was a tediously long slow descent across the Palisade glacier, since the uneven surface of the "sun-cupped" hard snow was incredibly difficult to walk on without twisting an ankle. Since we were all more than exhausted, and it was well after midnight, we decided to try to bivvy at the first almost level rock patch we could find. For shelter we had one nylon "bothy", a minimal shelter, in which we can all crouch. The way it works is you put the bothy over your heads with everyone standing in a corner of the bothy. Then you all sit down at once with your knees up and your head resting on your knees. Everyone's legs were cramping and the ground was hard and stony. Although we tried to rest for an hour, and tried several different configurations with the bothy, we decided it would be better to keep moving, as we were all uncomfortable and cold. Fatigue took its toll as we made slow progress across the boulders and missed the trail. We decided to try the bothy once again on a rock above a shallow pool at lower elevation at 4 am, figuring a halt until the sun rose would do us no harm. Although this time we rested for 1 ½ hours, we managed to fall asleep from exhaustion until we woke up shivering. Doze, freeze, slide into water pool, shimmy back up, doze, freeze! We warmed up quickly once we began moving again at first light. We climbed up and over a gravel ridge to find the trail in the next valley. We stumbled back into base camp at 7 am on Friday after 27 hours of climbing.