Split Mountain
January 14th-17th 2010
Winter Attempt of Split Mountain - Tough, tough and tougher..
Those present: Adrian Crane, Deborah Steinberg, Carey Gregg, Derek Castle, Ryan Swehla.
Also known as "The snows too deep, the hills too steep and the wind too strong"
We knew from the start that success during a winter ascent of any snow covered mountain depends on "Good Roads, Good Snow, and Good Weather", and so before departing we asked the cyber-community to pray for synchronicity on our behalf.
This was going to be our first official 14er without Ray, who was scheduled for knee surgery the next morning. We left Modesto Wednesday evening with our bundles of packs, snowshoes, ski poles and other gear stuffed into the bed of Adrian's son's dual cab truck. Adrian warned us that the only problem with taking Johnathan's truck was that it didn't start well in cold weather. Hmmm. As Deborah's legs were shortest, she was relegated to the middle of the back seat with her legs squished into the middle console. Searching for a roadside place to camp, at 2am Thursday morning we pulled up and slept under the stars at the former site of the Post Office of Manzanar Internment Camp where (shamefully ) 10,000 Japanese Americans were held during WW2. It was a chilly night, and the ghosts of Manzanar haunted our sleep.
We woke up at 7 am, still groggy from our late arrival. Searching for a decent place to have breakfast, we had been told the breakfast burritos at the Chevron in Big Pine were the best breakfast around, so we pigged out on the best gas station food any of us had ever eaten, knowing full well we were going to live on dehydrated food for the next few days. We made the 12 mile drive over snowy dirt roads and found the Red Mountain creek trailhead. The herds of deer along the track were the largest we had ever seen, although they were obviously perplexed at why humans would be crazy enough to be going into the wild in these winter conditions. The roads had treated us well. We had heard before we left about the possibility of a storm arriving Sunday, and made an initial plan to attempt to hike all the way in to a single base camp Thursday, summit Friday, and return Saturday before the arrival of the storm. We had also been told there was a 20% chance of snow on Saturday.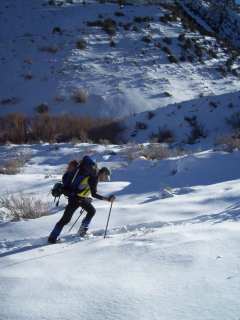 Since we had dawdled over everything, from which food and gear to leave behind to Adrian's still unpacked backpack, we did not start out on the trail until noon. It was an exceptionally steep start. We managed to find the trail in patchy snow but then lost it again. Initially we saw the tracks of many deer and rabbit, and in at least one case the tracks of a mountain lion. Snow cover increased to the point where we sunk knee deep, forcing the necessity of snowshoes. We struggled through deep fluffy new powder on steep hillsides. Deborah cursed a black streak as we went thru a tough stretch of snow. Derek needed therapy after listening to it. Ryan encouraged us by stating that he would take us to the hot springs if we got out on Saturday.
The unforgiving slickness of the powdery snow and the steepness of our trail made our progress so slow that at 4:30 pm we realized we were far from reaching our goal of camping at Red Lake, and even farther from any good camping areas. In every direction we had only steep snowy slopes with rock or brush poking through. Since we had made little progress and still overlooked the Owens valley, we still had cell reception. A text message from Ray came in that the Sierras were expecting 10 feet of snow on Sunday night. Knowing Ray's tendency towards misspelled words and typos, Adrian declared that impossible and said he must have meant 10 inches, unless it was a joke. Later another message came in to confirm it was indeed 10 feet. Was this the storm of the century coming in? The possibility of the storm arriving early never left Deborah's mind, and she worried about the already difficult conditions. It was scheduled to arrive by Sunday evening but we didn't want to see it come a few hours early and find ourselves snowed in at the trailhead 12 miles from the nearest real road to say nothing of retracing our already difficult steps in an additional few feet of snow. We discussed our options and decide to press on for the moment. So we climbed higher to check the base of the cliffs above and found a minimal sloping site which we managed to level by filling in with brush and snow to form an airy platform for our tent. Ryan's experience with real estate came in handy as he expertly used snow stakes and Dereks snowshoes to make a structural framework for the branches and snow infill. We shoved five slightly stinky climbers into the four-person tent. Exhausted and frustrated at our lack of progress, we slept amazingly well and warm, tight as matches in a box. Good snow we had not had.
Up at 7am with the sun. Hard hiking and snowshoeing all day with sections of snowy rock and deep powder on consistently steep terrain. The rough steep terrain had us slipping and tripping over and over again and every misstep was rewarded with a heavy back pinning us to the ground and requiring utmost efforts to heave back up again. We finally reached the unnamed small lake below Red Lake at 10,200' at 3:30pm. We decided to camp there primarily since progress in the soft snow with heavy backpacks was so hard, and we would cover the ground far faster with just summit packs the next morning. Ryan and Adrian suggested different campsites each claiming theirs the most sheltered. We chose Ryan'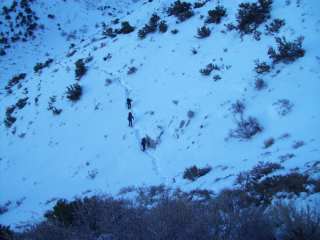 s windy site over Adrian's extremely windy one! As the tent was pitched, Deb mistakenly stepped around the tent without snowshoes and sunk into the soft snow, creating a hole outside the tent door. Attempting to turn her bad behavior into a positive camp asset, she declared we should have a footwell outside the tent door. Derek was the unlucky one pressed into manual service to dig out the rest of the hole while Deb watched. She would have leaned on a shovel, supervisor-style, but we only had the one! With the tent up, we pumped water from a small open patch in the lake, cooked our dehydrated meals, made a fire, dried boots and socks and crawled into the still cramped tent at 7:50pm. Derek slept with his wet boots inside his sleeping bag in an attempt to dry them before morning while Deborah took a late night outing to shovel snow on the fire as the wind was whipping sparks, from the not quite dormant fire, in the direction of the tent. Having discussed the pending mega-storm we decided to make our summit attempt as early as possible so we would then have a chance to get out as soon as possible on Sunday. We set two watches to a 2 am alarm even as we swore we would never hear them. Possibly because of anxiety about our summit attempt the next morning, most of us slept fitfully, and someone was always awake either because of the elbow in the side when someone rolled over or the freight train noise as the wind gusts approached through the trees and then whipped at the fabric. Thus the alarms were heard! It was Derek who roused himself first. There was a bitter cold wind gusting enough to prevent the stoves staying lit. After struggling for half an hour we dove back in the tent with the two stoves and made breakfast inside in a jumble of down sleeping bags, hissing stoves and precariously balanced cups of tea and hot chocolate. Powder snow floated in through the vents.
We had a serious discussion about the wisdom of trying for the summit in this weather. Derek was the voice or reason – he went out to get ready!
We left camp at 3:45am carrying our memento of Chase and set off up the valley on snowshoes in pitch black with the wind booming around us. No moon, few stars, no predawn light. We navigated by compass and hit Red Lake where we filled water bottles from a slush on top of the lake ice.
Above the lake we climbed, still on snowshoes, up the snow covered moraines toward the false summit. About half way up, at 11, 300' a faint light of dawn in the East allowed us to make out the bulk of Split above us to the left and the false summit ahead of us to the North West. The wind now blew harder with frequent strong gusts and few respites. We all felt the cold from the incessant wind. Adrian had to put on a down jacket to climb in, the first time he had found that necessary in the Sierras. Ryan and Deborah were both suffering from very cold toes and Carey, always the first to be affected by altitude, wasn't feeling too exuberant. Derek's enthusiasm from first hearing the watch at 2am was still in play and he led up through the snow occasionally pulling out his video camera to shoot a short vignette. As we approached the false summit at 12,000' dawn had indeed arrived and it was light but the wind was increasing and gusts would threaten to knock us over. We had to pause and brace ourselves and hide our faces and eyes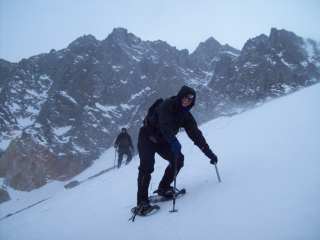 from the stinging snow crystals. Derek and Adrian had expected or hoped that the wind would dissipate after dawn but no such luck. The sky was dark with what looked like an impending storm which worried Deborah, and there was no warmth from the little sunlight we had. We looked across at the chute that leads to the Sierra crest which would be a long exhausting climb in deep powder. If the wind was this bad here we could only guess how bad it was on the crest. Derek shot a video of the howling wind and driven snow just to prove our predicament! In the face of the brutal wind and already suffering the effects of the cold that it caused us, we agreed to turn around. It was about 7:45am and 12,000 feet. Because we were carrying only our light summit packs we had made much better progress on this day even while the snow conditions remained bad. However, wind and cold had the upper hand, and we retreated knowing we had pushed as far as we could. On the way down the winds continued to increase and we endured several gusts where blowing spindrift produced a whiteout. We guessed windspeeds of 60 miles an hour. Deborah's knee finally succumbed to the efforts of the last two and a half days as she tweaked it during another slip and knew it had been hammered just one time too many. She had to tread very delicately from here on.
We were back in camp by 9:20 am and agreed to continue the trek out after we had eaten and packed up camp. Hot springs here we come – or maybe a motel with a hot tub. Before the tent was taken down, Adrian had a 15 minute nap which improved his demeanor considerably.
The trip out was quicker and easier than the hike in as we were going steeply downhill but that steepness still made for technical snowshoeing with plenty of slips and falls, slides and stumbles. Snowshoes disappeared in deep holes beside rocks. Derek found unexpected obstacles as he led and ended up headfirst buried under the snow. Several short glissades (sliding down the slopes on our backsides) aided our progress, the best being a couple of hundred feet culminating in a 6ft drop over a little rock pile. Ryan and Deborah had simple snowshoes not well suited to steep going, and Deborah's knee got worse with every slip. We managed to follow our own trail and retrace the route in the most part even though it had been filled in by blowing snow. Derek tried to take a shortcut but the snow was so deep and powdery he couldn't snowshoe out. The only way he could get out was by using the branches of the small trees that were mostly buried under the snow: pulling himself from one tree to the next. Adrian came around a corner to find both Ryan and Derek head first down a fresh chute of snow. Ryan quickly popped his head up smiling, and said it was an intentional maneuver. Deborah added a head over heels to her repertoire of snowshoe moves.
At 2pm as it had each day, the sun dropped behind the high ridges to the south of our canyon and we were plunged into chilly temperatures, warm enough when moving but chilling as soon as we stopped; especially if that stop involved the immersion of our snowshoe clad body in 2 feet of powder snow.
At dusk, after 14 hours of hiking and 16 hours after waking, we emerged from the canyon and could look down on the truck at the trailhead below. Deborah's knee had made it home.
We had a 45 minute drive out the dirt road. We were grateful we had not been pinned down by the approaching storm. Looking back at the Sierras the high peaks were clear and the storm had clearly not hit. Was there a twinge of regret on Adrian's face?
We went to a rustic café in Big Pine where our 6:30pm arrival just beat the closing time of 7pm which we thought rather early for a Saturday night in a hopping place like this. We deduced that the waitress had a favorite TV show at 7:30 and desperately wanted to be home by then as she appeared somewhat reluctant to serve us. Fish of the day? "Sorry we're out." I'll have the soup. "Sorry, out of soup, but I can do a salad." How about a slice of one of your three varieties of homemade pie? "Can't get you the pie." May I have more water for my tea? "Well I'll try." A refill of coffee? "You mean you want me to make a fresh pot just for you?". At this point Deborah returned from her 30 minute 'adventures in wet wipes' trip to the restroom and was finally able to order. Adrian had not enamored himself to the staff as he left the restroom key locked in the restroom which resulted in a head in hands moment for the waitress.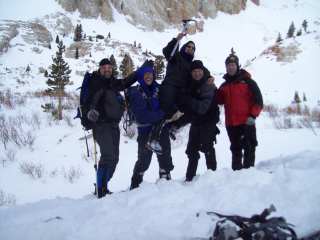 Afraid that Adrian would insist that we camp out another night, Ryan used his fancy cell phone and Adrian's long ago memories of Lone Pine to find a motel which had a hot tub. We happily drove by the parking lot at Manzanar, where we had camped rough on the trip in, and enjoyed instead the relative luxury of the Dow Villa hot tub and 3 beds between five. As Deborah had her own cot, the guys decided it was okay to share a bed as long as one guy would sleep under the sheet, and the other would sleep over the sheet.
Sunday morning's breakfast at the Alabama Hill Café more than made up for the debacle at the diner in Big Pine and the only hiccup occurred when Derek's Spanish wasn't good enough to understand the waitress' offer of 'jello' squash' meant 'yellow squash'
We even took time to play tourist on this trip. We took an hour to drive around the Alabama Hills area where many of the movies from the 1940's and '50's were made. We followed the road tour, looking at the piles of boulders which formed shapes such as "the elephant", "the cougar" and "the football player", easy to imagine with lingering high altitude delirium.
We reminisced about our adventure, the weather, the snow conditions, Deborah's knee. Had we made the right decision to turn around? It was noon, and the feared storm had still not yet arrived.
Adrian Crane and Deborah Steinberg

"Thank you for allowing us to know our climb is making a difference. Your contribution to City Of Hope will support important research to help find a cure for cancer and motivate us to make each summit!